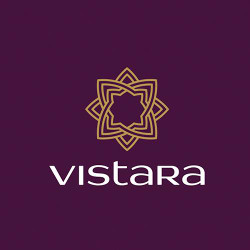 In August 2014, the Tata Group and Singapore Airlines unveiled the logo, livery and uniform of their new joint-venture airline, Airline Vistara. Vistara hosted a big event in New Delhi on the 12th of August and was attended by senior members of both companies. The airline plans to offer 87 weekly flights during its first year of operation. Destinations will include Mumbai, Bangalore, Ahmedabad, Hyderabad, Srinagar, Patna and Chandigarh.
Vistara is derived from vistaar means infinite expanse in Sanskrit. It is the perfect cue for the airline that aims to push back the boundaries of air travel and create seamless experiences. Vistaar also conjures up the image most associated with a smooth flight an endless, blue horizon. The Vistara star is derived from a Yantra, an ancient symbol that depicts an unbounded universe in a perfect mathematical form. At its heart, is an 8 pointed star derived from the compass rose that signals the brand's commitment to excellence in everything that it does. The logo and concept was designed by Ray+Keshavan and Brand Union.
Druk Air Corporation Limited, operating as Drukair - Royal Bhutan Airlines, is the national airline of the Kingdom of Bhutan and operates a modest scheduled flight network within the South Asian region from its base at Paro Airport in the western dzongkhag of Paro.

Taking its name from Druk, the airline was founded in 1981, ten years after Druk Gyalpo His Majesty King Jigme Dorji Wangchuck gradually began to open up the Kingdom from self-imposed isolation, and seven years after welcoming its first foreign visitors. As the only airline flying into Bhutan, Drukair has become a lifeline with the outside world for the Bhutanese people, as well as supporting emerging inbound tourism and export markets.



The name and logo of the airline is based on Druk, the Thunder Dragon of Bhutanese mythology. Druk is a Bhutanese national symbol, and therefore very significant in Bhutan. The Druk is central on the Bhutanese Flag, holding jewels to represent wealth. In Dzongkha, Bhutan is called Druk Yul, or Land of Druk. The Bhutanese leaders are known as Druk Gyalpo - Dragon Kings - because of Druk.
It should not be a huge surprise to find many airline logos based on birds but have you ever wondered what are the most popular birds on airline logos. I did some research on this and the results are below.
The two most popular birds are the crane and the eagle. The table below has a longer list.
| | |
| --- | --- |
| | Air Jamaica - Red-billed Streamertail |
| | Air Koryo - Crane |
| | Air Lithuania - Crane |
| | Air Mauritius - A red paille-en-queu |
| | Air Macau - A Dove with the wing also forming the shape of a lotus |
| | Air Niugini - A raggiana bird of paradise |
| | Air Seychelles - A pair of white fairy terns |
| | American Airlines - An Eagle |
| | Canadian Airlines - A Canada Goose |
| | Cebu Pacific - An Eagle |
| | Centralwings - A Skua |
| | China Yunnan Airlines - A peacock |
| | Condor Airlines - A Condor |
| | Gulf Air - A Falcon |
| | Kingfisher Airlines - A Kingfisher bird |
| | LOT - A crane |
| | Lufthansa - A crane |
| | Mexicana - An eagle |
| | Silk Air - A Seagull |
| | TAROM - A swallow |
| | Xiamen Airlines - A crane |
| | |
| --- | --- |
| | Brussels Airlines is a Belgian airline based at Brussels Airport. It operates to over 50 destinations in 20 European countries, as well as long-haul flights to East, Central and West Africa. Brussels Airlines was created following the merger of SN Brussels Airlines (SNBA) and Virgin Express. |
The logo the letter b in lower case, made up of a series of red elipses.
The "b" in a contemporary design style, symbolises both Brussels and Belgium.
In graphic terms, the "b" is made up of a series of ellipses that represent the extended network of the airline, as well as the ground lights on an airport runway.
The blue is a reminder of the values that are carried forward from SN Brussels Airlines while the red recalls the "low cost" colours of Virgin Express. In the airline sector, blue is generally reassuring and reliable while red is youthful and dynamic.
Most planes have an altered 'b' logo after superstitious travellers complained about the thirteen dots bringing bad luck. The logo now contains fourteen dots.

Delta Air Lines, is a major United States airline headquartered in Atlanta, Georgia that operates an expansive domestic and international network, spanning North America, South America, Europe, Asia, Africa, the Middle East and the Caribbean. In terms of passengers carried (approximately 119 million in 2005),Delta is the second-largest airline in the world (behind American Airlines).
The current Delta Airlines logo is a comprises of two 3-dimensional triangles representing a larger triangle with the world DELTA next to it. The logo's origins can be traced back to 1959 logo which was the first time, the design was introduced. The logo (also called the widget) was inspired by the swept-wing design of the DC-8 airplanes. The red, white and blue represented the colors of the American flag. The logo has undergone some changes over the years with the the logo being placed sideways, made softer etc, but the current logo is probably the most significant change with the introduction of the solid red color. The 3-dimensional red widget logo reflects Delta's successful transformation into a highly-differentiated, customer-focused airline