Hyatt House is an extended stay hotel brand of the Hyatt group. Extended stay hotels are a type of lodging with features unavailable at standard hotels. These features are intended to provide more home-like amenities. Extended-stay hotels typically have self-serve laundry facilities and offer discounts for extended stays, beginning at 5 or 7 days. They also have suites with kitchens.
Hyatt House will be the new brand name of the all Hyatt Summerfield Suite hotels in addition to the ones acquired from LodgeWorks.
The logo is fairly simple and contemporary and comprises of the following elements.
The 'H' is both in lower case and uppercase

The lowercase 'h' is in the shape of a bed while

The uppercase H has a curved square flag in a bold blue hue. Blue is the base color of the Hyatt brand which helps it stay connected to the brand yet have its own distinctive identity.
The name Hyatt House was selected as an identifier that signals a residential, welcoming, personal and hospitable experience. Hyatt House also has historical significance as the name of the first Hyatt hotel, which opened in 1957 at Los Angeles Airport LAX.

This video gives you an insight into the new hotel room design and features.
See more World Famous Logos
Technology Logos
Car Logos
Logo Parodies

The logo on this page is a registered trademark. Use of the logo here does not imply endorsement of the organization by this site.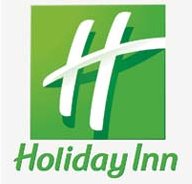 Holiday Inn is one of the world's most recognised hotel brands with over 400,000 rooms in 3,125 hotels. The original Holiday Inn chain of hotels was founded in 1952 in Memphis, Tennessee, by homebuilder Kemmons Wilson to provide inexpensive family accommodation for travellers within the USA. The chain is currently owned by InterContinental Hotels Group.
Holiday Inn announced in October 2007 that it would introduce a new logo for its chain of hotels. The new logo still maintains the green color theme. The "Holiday Inn" text which was a prominent part of the logo is now moved to the bottom of the logo with a more modern 21st century font. The text is now replaced with a stylish letter 'H'. The "Holiday Express Logo" will also be changed.
Owners and franchisees will invest up to $1billion over a three year period in total to carry out the brand relaunch to meet the required service and quality levels. Holiday Inn franchise owners will have to make changes to hang the new logo by investing as much as $150,000 per hotel in new bedding, shower rods and landscaping.