NFL Logos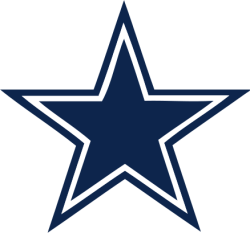 The Dallas Cowboys are a professional American football team in the Eastern Division of the National Football Conference (NFC) in the National Football League (NFL). They are headquarterd in the suburb of Frisco, Texas which is a northern suburb of the Dallas metroplex. The team move started to play its home games at Cowboys Stadium in Arlington beginning in the 2009 season, moving from the city of Irving.The Cowboys joined the NFL as a 1960 expansion team. The team's national following might best be represented by its NFL record of consecutive games in front of sold-out stadiums.

The Dallas Cowboys' blue star logo is associated with the team is one of the best known logos in sports. The blue star originally was a solid shape until a white line and blue border was added in 1964. The logo has remained the same since. Today, the blue star has been extended to not only the Dallas Cowboys, but owner Jerry Jones' AFL team, the Dallas Desperados that have a similar logo based on the Cowboys.

The star has a special place in Texas history as well. The "lone star" is an older symbol predating the flag which was used to symbolize Texans' solidarity in declaring independence from Mexico. It is still seen today as a symbol of Texas' independent spirit, and gave rise to the state's official nickname "The Lone Star State".
| | |
| --- | --- |
| 1960-1963 | 1964 - Present |