August 5th, 2011 was International Beer Day and it started a flurry of tweets in India with the hash tag #liquormovies with folks renaming popular Hindi movies into movies with an alcoholic theme.


@hussync_in - Bewde Bottle Le Jayenge Sanam

@vickasbindaas - Azab Daaru ka Gazab nasha.

@hussync_in - Kabhie Whiskey Kabhie Rumm!

@hussync_in - Peena Isika Naam Hai!

@amithpanchal - Bewda no. 1

@myth_vin - Beer Belly

@YogiBabaKamde - RumLao Jaan

@yashpgandhi - Hum hai rahi bar ke


More tweets below
Read more: International Beer Day Desi Tweets #liquourmovies





Zee TV is an India-based satellite television channel owned by Zee Entertainment Enterprises based in Mumbai, Maharashtra, which broadcasts various programmes in Hindi and other regional languages of India. Broadcasting is also present in various nations of South Asia, Europe, the Middle East, Africa, East Asia, Australasia and North America. It is a part of the Essel Group.

In June 2011, Zee TV unvelied a more stylish and contemporary logo shown above. The new logo of Zee TV is designed in an aqua blue color, featuring a stylish font. The design of the new logo of Zee with its upward flourish represents the upward movement of desires and wishes. The aqua blue color of the Zee TV new logo bring in modernity and freshness to the brand. The new logo of Zee tv has been developed by the Zee in-house team.

According to MD & CEO Punit Goenka, "The unshackling of the 'Z' from the box symbolizes the modern woman's zest for life and the confidence she possesses to step out into the world, beyond her home. The overall design has a progressive feel and reflects the idea of looking into the future with hope, depicting a more dynamic and spirited outlook. The rainbow of hope is an important element of the new packaging. It is colorful, ethereal and symbolically emphasizes the promise of 'Umeed Se Saje Zindagi'" said ZEEL managing director and chief executive officer Punit Goenka.



The historical evolution of the Zee TV logo is show below. The logos have changed 5 times from the original logo in 1992 to the latest logo in 2011. The 2011 logo appears to be the biggest departure from the previous logos.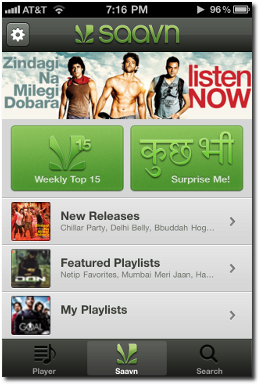 If you love Hindi Music, both movies and pop music, then Saavn is a must have application for you. Saavn is a music streaming application available on the iPhone (and related devices). In this article, I am reviewing some of the key areas such as music selection, sound quality etc
Music Selection
The choice of music was truly remarkable. I expected it to have the latest Bollywood songs (ZNMD was the current favorite) but was pleasantly surpised to find old hits as well (I searched for Sholay). I also searched for some popular pop songs like Indian Ocean and was able to find it too. In fact the search function is pretty neat and has a nice auto filter as you type in keywords. I even found Dekha Na Hai Re Socha Na from Bombay to Goa on there which I have been looking for a long time.
Sound Quality 
I have only used the application on a Wifi connection and the sound quality is really good and I did not face any buffering issues. Even the music from Sholay and the 70s movies was decent. I really would not expect crisp sound from old movies but its great they are available. There is a setting to allow high, low and medium quality for audio based on you bandwidth situaton.
Playlists
You can create an account with Saavn or use a Facebook account to login and then create playlists. Was able to create a couple of playlists and add songs to do it. Took me a while to get used to the interface and it does not seem like there are any limitations just yet.
In July 2011, someone started a hashtag for Indianized Musicians and this trend for most of the day. Here is a sampling of some of the better ones. I did not put any one that was just a literal translation to Hindi like "Kaam Par Aadmin (Men at Work)" as most of them were not really funny.

@GhantaGuy Bhootni Spears #IndianisedMusicians

@FarahSayyed Dubey Brothers

@govind16 Luda Krishna

@mehrzee Mai ka Laal Jai kishan #IndianizedMusicians #IndianisedMusicians

@indumouly Tony Bhanot. #IndianisedMusicians

@vjsub Iyer Supply #IndianizedMusicians

@thetanmay lady ghagra #IndianizedMusicians

@RajneeshKapoor Lady Sasa Rere Gaga #IndianisedMusicians

@SlipperySadhoo: Lady ReRe & Lady MaMa. Shorter and taller versions of Lady GaGa respectively. #indianisedmusicians
@atulkasbekar 'Jhelo'. #IndianisedMusicians
@spydruler Backstreet Bai's #indianisedmusicians
@smellmyarmpits Dr. De, Arctic Maa Ki, Van Helen, Muthalika, Salim Dion #indianisedmusicians
@TheBigDowg Shaani Twain. #IndianisedMusicians
@dhonghi_baba: Vikram aur Beatles #indianisedmusicians
@rplusk_: Jagjeet Timberlake #Indianisedmusicians
@mehrzee: JagDeep Purple #IndianisedMusicians
@iam_a_myth: Pink Faluda #indianisedmusicians
@unfairandlovely Saxena Pistols
@PunsNProses Udas Priest #IndianisedMusicians
@AmusedDouche Paan Staind #IndianisedMusicians
@AmusedDouche Run BMC
@kickasswriter Elton Meri Jaan #IndianisedMusicians
@deathbypj Justin Babbar #IndianisedMusicians
@punkdrunkmonkey Saandgarden #IndianisedMusicians
I am mentioning the handles of the people who appeared to have posted the tweet.
---
Funny Indian Tweets
More India Cricket Jokes
More Indian Jokes
Bollywood Jokes
Sardar Jokes




Yonex Co., Ltd. is a Japanese manufacturer of sporting equipment for badminton, golf and tennis, producing racquets, clubs, shoes, shuttlecocks, and other equipment for those sports.The company was founded in 1946 by Minoru Yoneyama as a producer of wooden floats for fishing nets. The company was later forced out of this market because of the invention of plastic floats. In 1957, Yoneyama began to make badminton racquets for other brands. Over the years, the company has grown to be world's biggest badminton company. Despite it's shrinking market share in badminton, Yonex remains the biggest badminton company in the world. Yonex provides clothing for numerous national badminton associations around the world, such as the Malaysian Badminton Association, Badminton Scotland, Badminton England, Badminton Ireland and Badminton Wales.

The Yonex logo has always intrigued me in the simplicity of its design. The logo effectively uses the triangle and the circle shapes to create a YY for Yonex (or perhaps Yoneyama). The triangle with the circle at the bottom could also be thought of as the shuttle used in the game of badminton, but maybe that's my imagination. The standard logo is set on a blue and green background with white text but I have also seen a black and white logo as well. The YY logo is also very distinct on the badminton & tennis racquets as well.

Growing up, it was a dream to own a Yonex badminton racquet. I still love the logo after all these years.

On May 19th 2011, the 58th National Film Awards were announced in India which sent the Twitter world abuzz with the results. Needless to say, it also sparked some funny tweets and a hashtag #FakeNationalAwards

@RJShrey Shiney Ahuja wins one for his home production "Maid In India".

@BollywoodGandu
Breaking: Poonam Pandey gets National KLPD Award

@JayKay Anu Malik wins one for original Sound Track for all his music last year. Pritam was given a complimentary prize

@flamboychetan
Kangana Ranaut wins national award for best dialogues in English.

@BollywoodGandu
Breaking: @udaychopra wins National Award for not releasing any movies this year.
@JayKay
Bipasha Basu wins one for her musical based on Amar-Ch(ar)itra Katha. Titled "Amar Sing'hahahaha".
@flamboychetan
Shahrukh khan wins best child actor award for My name is khan.
@Fraud_Mallu
Mimoh Chakraborty wins one for haunting us in 3D. #FakeNationalAwards
@nayakgirin
S.M Krishna gets the National Award for best dialogue delivery in a foreign language.
@gkhamba
Breaking: Sonakshi Sinha wins national award for best forehead that can be substituted for an aircraft runway.
@gkhamba
Breaking: Katrina Kaif wins national award for best sex scene with a mango